Chicago was soooo much freaking fun.
Time for pictures.
Navy Pier
Amanda and I with some pirates.
"Can we get our picture taken with you? We don't have pirates in Canada."
-Amanda
The ferris wheel. It's pretty cool there. It's like a giant version of The Forks + rides.
The Vocal Jazz sang in the middle of it which was pretty rad.
Jen and I on the ferris wheel. (Ya, I cut my hair while there too, and then Amanda gave Dayna's room the garbage can of it.)
Jen, Danielle, and Larson on the ferris wheel. Danielle is clearly having a good time.
Nicole, Kellyn, Eric and Ian on the one behind us.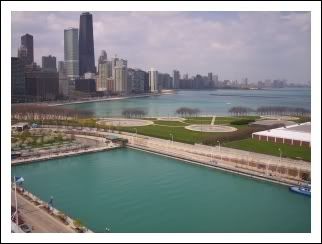 What Chicago looks like from the top of a ferris wheel. Their water is sooo much clearer than ours.
Navy Pier from the top of a ferris wheel.
Ian, Bryce, Me, Brandy, Jen and Danielle.
Museum of Science and Industry
Amanda infront of this weird spinny thing that kind of looked like a giant disco ball.
Amanda and I in the crazy room that was all bubbles and colorful.
Amanda and I both sucked and driving a race car.
Really badly.
The Chicago Art Museum
Carrisa and I infront of "Sundays in the Park With George" Ferris Bueller style.
We almost wet ourselves.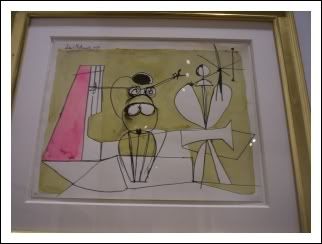 Water lillies by Monet. It actually isn't all that amazing.
Maureen, Ian and I all sat infront of this painting for about 15 minutes. It's called "The American". It was done in just black oil paint with a tiny bit of red on the side. It was pretty awesome.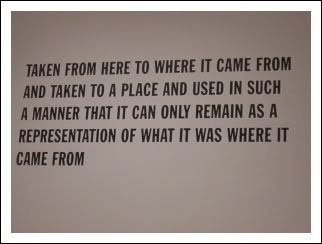 That was written on the wall of one of the rooms.
An Andy Warhol. I didn't believe it was a real one for the longest time. I was so freaking excited to be seeing it.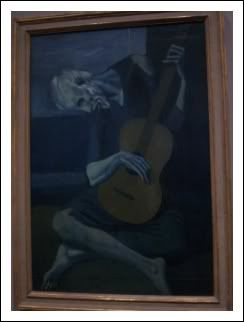 Picasso. It's done on wood. It's really crazy because there's a face in it. Like I guess Picasso drew out his picture first in pencil which ended up like carving the picture into the wood. And afterwards he changed his mind and painted a new one. You can't see the picture underneath in any prints so it was sooo awesome to see it in real life. When we found it we ended up getting this huge crowd around us looking for it.
Once you do find it it's all you can look at.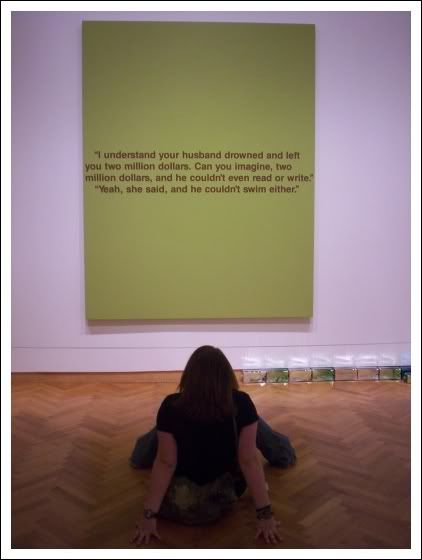 I loved this one so much. It was like..made for me. I must've read those words 49530498 times and I still don't get it.
I just realized now I didn't get any pictures of the Van Gogh's..so broken heart.
They were really weird. Like.. he outlines his work very child like. And the thickness of the paint was insane.
The Symphony & Wicked
The Symphony was really boring. We weren't supposed to take pictures so a lot of us just sat there bored or had really expensive naps.
Wicked was soooo good. It's the new broadway musical about the witches side of the story in The Wizard of Oz. Most of us cried at the end just 'cause it was so awesome. Once again...we weren't supposed to take pictures so I just took a quick one of how cool the theatre was. I'm 99% sure that the play will probably be made into a movie.
It seriously must've cost them millions of dollars to put the play on.
The Hancock Building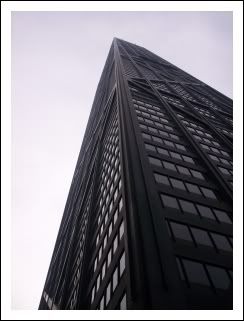 Me, Danielle, and Jen. Danielle and I have only gone up 3 floors in an elevator in the last like 5 years so we were reeeally scared.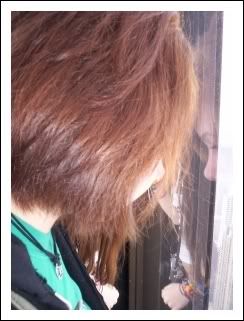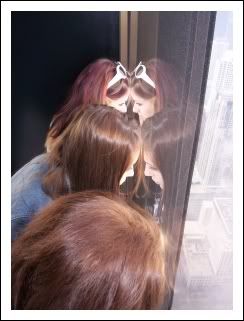 We all thought we were Ferris Bueller. (I dyed my hair too..)
Then we washed the windows and left.
Misc.
This is where we had supper one night. Everyone writes on the wall. We had Chicago-style deep dish pizza which was so effin good.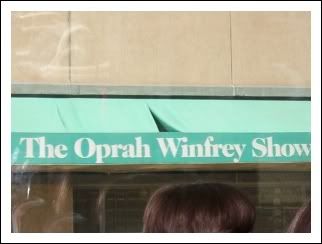 I'm really quite the nerd and was excited when we saw Harpo Studios.
That's like where 'The Wizard of Oz' was written, so they have the tin man there.
Jen and Maureen on our freeezing architecture cruise.
On the way back home on the 18 hour long bus ride Steve broke out the guitar and everyone sang and it was beautiful.
Aside from those things we also went to see the Blue Man group which is probably the most incredible thing I've ever seen live. I can't even describe it. It was like art, improv, music, magic, and a rave all shuved into one show. If you ever get a chance to see them..gooooooo. Kellyn, Ian, and I got our picture taken with one of the blue men and we almost had a heart attack it was so crazy.
All in all I hardcore loved Chicago.